Last week I somehow came across this meme,
Muffin Tin Monday
, and I thought it was such a great idea! It spurs on Moms to interact with their children, to create excitement and a learning experience into meal time (IMO)... my kids (ages 5, 3 and 2) were just buzzing when they saw me trying to think up some ABC's for their muffin-tin lunch! They already know that next week is a Numbers theme and so we've conversed about what it could look like!
Thanks
Michelle
for this idea... please visit her at "Her Cup Overfloweth" here: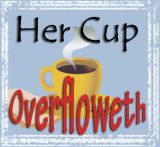 Here is what we came up with on a wim...
A is for apples and alphabet pasta
B is for banana
C is for cranberries (dried) and carrots
That was fun! I'm already thinking it would be great to continue this for as many Mondays as possible and even into September for my Son who will be in grade 1 and eating lunch at school every Monday! How fun would that be?!
Have a great day!